February 27, 2018
Congratulations to Dr. Oprea and team!
By msequeira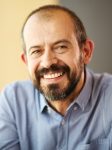 Tudor Oprea, MD, PhD
Tudor Oprea, PhD, was the lead author on a recently published article in Nature Reviews Drug Discovery. The international team included Tudor I. Oprea, Cristian G. Bologa, Gregory N. Gan and Larry A. Sklar from the UNM Cancer Center.
The article describes work conducted as part of the Illuminating the Druggable Genome initiative that began in 2014. The initiative systematically collects and processes information on a wide array of data to enable better understanding of interactions between proteins, proteins and drugs, and the relationships between proteins, drugs and diseases. The work collected and classified data on the human genome, human proteins, chemicals, and diseases.
The team found that nearly 40 percent of the human genome remains unexplored. These understudied proteins could represent areas for which new drugs could be developed or that could help to further our understanding of biological processes.
Read the supplement material on the ionizing radiation proteome (work conducted at UNM)